What To Pack For An Overnight Hike
Lots of women ask, "what should I pack for an overnight hike?". Figuring out what essentials to carry on your first overnight hike can be difficult if you haven't done it before.

There are many decisions to make and what you pack will also depend on where you're going, how long, who with, weather and terrain. In this video, Founder of Women Want Adventure Monique, shows you what she's bringing to help give you ideas for your next adventure.


Just remember, a common mistake for first-timers is to overpack. Nothing ruins a hike more than carrying too much . Yet you also need to cover the basics in order to make sure your hike is safe and comfortable enough to make your experience a fun one.

No matter your experience level, using a list can help you remember all the vital equipment. We're here to help and have made you a free Overnight Hiking Checklist you can download for free on this page here.


What backpack should you bring?

For an overnight trip, you should be able to get by with a backpack that holds 45-50L. If you're hiking for an extended trip (3-5) days, we recommend at least a 65L. You pack size is determined by how much you choose to bring with you and how bulky your gear is. In winter time, you might also notice your pack fills quickly with additional layers.

We recommend Women's Osprey Packs. Buying a pack of 60L or above is handy if you decide to extend your day hikes into multi-days in the future. It's better to have spare space just incase you get hooked on your overnight trips and want to try hikes a little longer.

Remember to buy a rain cover for your pack.
What sleeping mat is best?

The comfort level will depend on how much you want to spend and how much weight you want to carry. A classic Therm-a-Rest mat is ideal and will last you a long time. We always say if you look after your gear it will look after you! In the video, Monique explains about bringing a round mat. You can get simple ground mats for $4 from Kmart. Something to put under your mat to help with warmth and to keep your gear clean and dry.

Do you need to pack a pillow?

Up to you! A little pillow can be a wonderful delight as you put your head down for the night. Usually, you can stuff your clothing and other items into a empty pillow case or even use your hiking pack as a pillow. It's not the same as home, but it lifts your head high enough to sleep. Check out these super lightweight and small hiking pillows here.

What is the best sleeping bag to buy?

There are two choices for hiking bags: 'Synthetic' or 'Down'. Synthetic tends to be cheaper and easier to care for but a bit bulky. Down can be half the weight and half the size but twice as expensive. Again, if you look after your gear it is best to buy a down sleeping bag as it will last longer. If you can get a sleeping bag around the 1kg to 1.5kg range this is ideal. When you buy your sleeping bag, also purchase a small 'Sea to Summit' compression sac. You may notice your sleeping bag in its normal casing is large and bulky in your pack. If you transfer to a small compression sac it creates much more space in your hiking pack (trust us, it's worth it!).

If you buy a sleeping bag with a 3 or 4 season rating (meaning you can use it in -10 conditions comfortably) it opens up the diversity of places you can use it. It's better to buy a warmer sleeping bag as opposed to a -1 rating as you can always open up your bag if you're too hot, but you can't get warmer if your bag isn't suited to colder conditions. This is a great The North Face sleeping bag.
Clothing tips:

As you see in the video - stuff your clothing into the air pockets of your hiking pack.
Keep to a minimum. You can wear the same shirt two days in a row
Choose items that are breathable and lightweight (merino material). Try Icebreaker brand
Take one set of clothing for walking and one set for sleeping
Always bring a thermal base layer and top layer with you
Pack a hat and beanie
Hiking buffs come in handy in windy and cold conditions. Great to keep your hair off your face
Pack a waterproof rain jacket
Pack spare socks
Avoid cotton clothing material
Zip off hiking pants are helpful
Always wear your boots in. In the lead up to your trip, you should be wearing your boots for regular walks to wear them in. These should be your most comfortable item
Sandals to put on after you take off your boots feel AMAZING. We use Teva shoes. You could also bring thongs or crocs

Cooking & food on the trail:

*We will do another article about what food to bring and an in-depth list.
In the video above, we mentioned STRIVE FOODS dehydrated meals. They are an Australian brand and taste delicious
Don't forget your gas canisters and cooking stoves
A Sea to Summit Spork, cup and bowl are needed. You don't need to bring a plat and a bowl
If lighting a fire, bring a small jiffy firefighter block to help with lighting the fire if wood is a little damp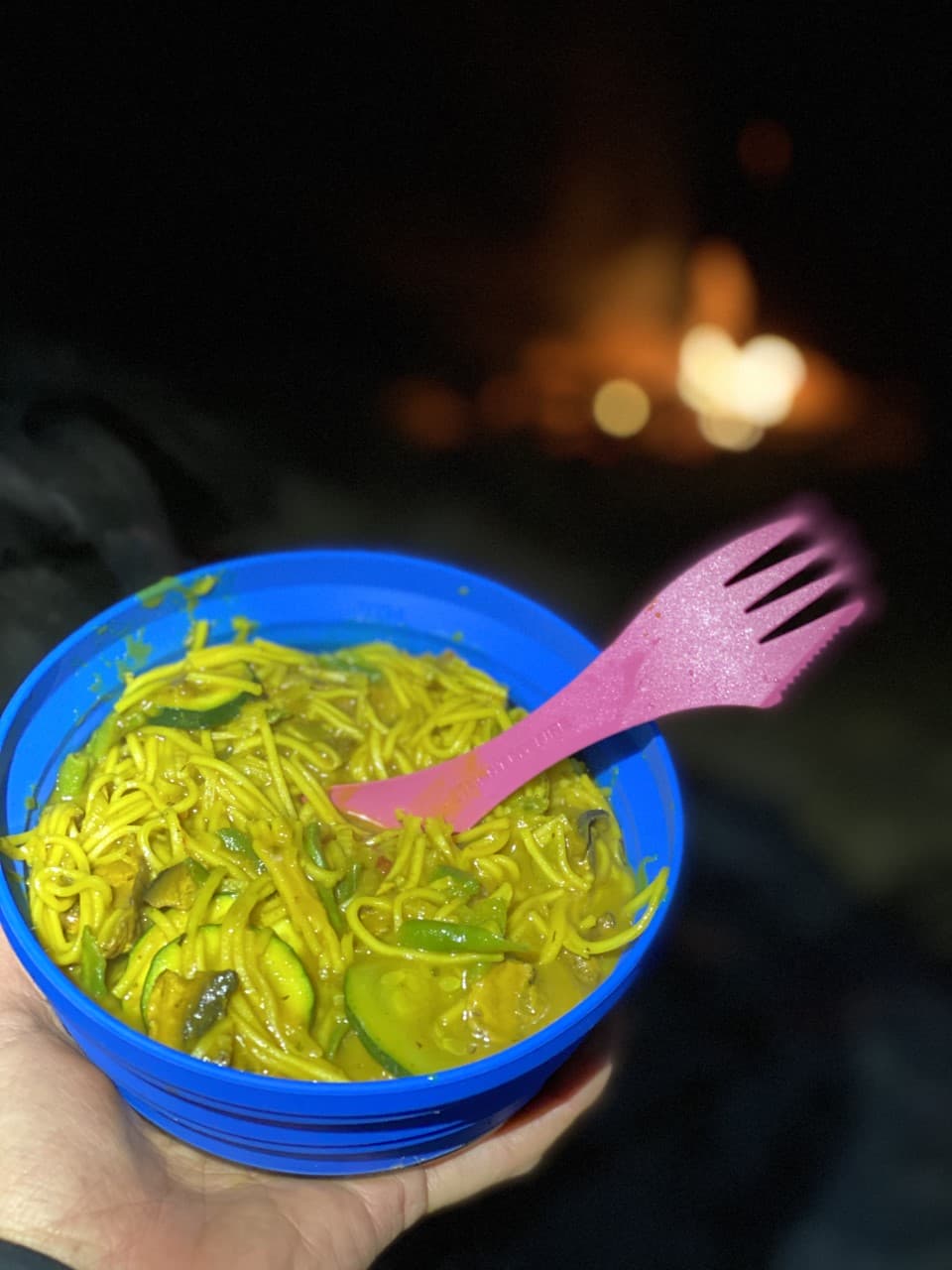 Your safety items:
Make sure you bring a first aid kit with you on every hike
Keep your first aid kit waterproof in a lightweight sealed container or dry bag
Always tell someone where you're going, what trail you're on and expected time you will return
Bring a PLB with you. These can also be hired from most NSW National Parks Information Centres
Do you have a GPS tracking devise? We recommend using AVENZA maps which is a helpful app on your phone. Make sure you have a phone charger with you (battery pack)
Bring a map and compass
Are you carrying enough water? Water bladders are great. Rule of thumb is you should always at least have 2L of water on you and know where you can fill up along the way if needed

Other items:

The small things add up, but are essentials. You might want to keep these in handy places in your pack such as the brain of your pack.
Toiletries
Hiking poles
Inner pack liners (can also use a dead dog bag from your local vet)
A little microfine lightweight towel is handy for washing your face. If you don't have one, bring a tea towl from your kitchen!
Toilet paper (remember Leave No Trace Principles). We recommend bringing zip lock bags with you and taking out your paper. Yup! Even for a wee. Put it back in a zip lock bag and once you return on your hike you can dispose. It's best not to bring wet wipes with you as these are not great for the environment. If you can't live without, it is essential you bring all your wet wipes out with you and don't leave or burry in the ground
Head torch (with spare batteries). The spare batteries are incase your head touch turns on in your pack! Always bring extra
Pocket knife (also used for cooking hence why you only need a fork and spoon)
Matches/ lighter/ flint (for lighting your stove and a fire)
Phone / wallet / keys / chargers
At Women Want Adventure, we love helping women get outside and adventure together, and we know doing this for the first time or alone can sometimes be tricky. That's where we come in!

Whether you're new to outdoor adventure or a regular hiker, we welcome you to join the Women Want Adventure community and hit the trails with us. Your guides are professional and qualified in outdoor education and here to help support you to learn the skills to set off on your adventures.

Looking for your next overnight hike? Come with us!
Comments